New dog and cat laws from July
30/04/2018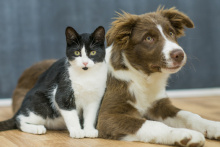 New laws for cat and dog owners and breeders will soon be introduced in South Australia.
These changes are designed to improve dog and cat management and welfare and are the result of years of planning and public consultation by the Dog and Cat Management Board and the State Government.
The new laws include:
mandatory microchipping of cats and dogs
desexing of dogs and cats born after the 1 July 2018
new rules for breeders who sell dogs and cats
introduction of a statewide database, called Dogs and Cats Online.


Dogs and Cats Online - new online registration
From 1 July 2018, Dogs and Cats Online (DACO) will be the new way to register your dog (or cat in those councils where cat registration applies).
Discount microchipping
If your pet does not yet have a microchip, any vet can implant one for you, or Chipblitz runs discount microchipping days throughout the year at various locations around the state. This service costs just $10, so it's worth keeping an eye out for local events.
More information
For information about the new laws and registration process, visit: dogandcatboard.com.au
More information regarding the changes will also be available on this website in the coming weeks.