Have your say: Annual Business Plan & Budget
09/05/2018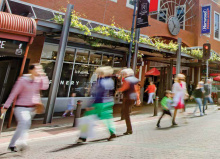 The City of Norwood Payneham & St Peters aspires to be a progressive city which is prosperous, sustainable and socially cohesive with a strong community spirit. In order to achieve this vision, the Council has a number of strategies and plans in place.

The Council is now seeking comments on its draft 2018-2019 Annual Business Plan and Budget – a key document outlining the proposed projects, services and programs for the coming financial year.

Your comments are valuable and must be received by Wednesday 30 May 2018.
For more information, visit: Community Consultation