Local Area Traffic Management Study update
21/05/2018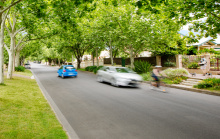 The Council has engaged Tonkin Consulting to undertake its Stepney Maylands Evandale Local Area Traffic Management Study (LATM Study).
The LATM Study encompasses all local roads under the care, control and management of the Council located within the area bound by Portrush Road, Payneham Road and Magill Road (LATM Study Area).
Download: LATM Study Area Map
Purpose of the LATM Study
The key objective of the LATM Study is to identify and address issues which exist within the Study Area associated with traffic management and safety for drivers, pedestrians and cyclists. These issues include number of vehicles, speeds, cut-through movements and crashes.
The LATM Study will not include on-street parking as the Council is undertaking a City-Wide Parking Review as a separate project.


Study stages
The LATM Study is being delivered in two community consultation stages. Stage 1 consultation has been completed and Stage 2 will commence later this year.
Residents, property and business owners within the Study Area are strongly encouraged to participate in Stage 2 consultation, as the feedback received will be critical to the success of the Project.
Information on how to submit feedback will be provided on this website, once the consultation period has been confirmed.
More information
For more information about the LATM Study, contact the Council's Manager, City Projects, Claude Malak on 08 8366 4542 or email townhall@npsp.sa.gov.au