Draft Outdoor Dining Policy consultation
10/05/2018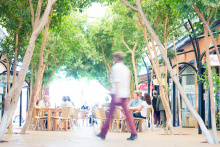 The City of Norwood Payneham & St Peters is seeking feedback on the Council's draft Outdoor Dining Policy and on the operation of the existing Outdoor Dining Policy.
The Policy provides a framework that guides the design, siting and assessment and permit process for outdoor dining areas. The Policy also sets out the obligations of traders when operating an outdoor dining area with a Permit.
Consultation closes 5.00pm, Friday 15 June 2018.
For more information, visit: Community Consultation