Find Yourself in a Library photo competition
16/05/2018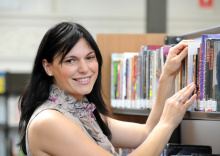 Win one of six $100 Booktopia gift vouchers. Competition open from 14 May-18 June.
Public libraries are amazing places which provide 24 hours access to e-library and online resources.
Help celebrate Libraries everywhere by taking a photo of yourself enjoying a library item or resource. Your photo can be taken anywhere, anytime, in (or out) of your public library.
This competition coincides with this year's theme for ALIA's Library & Information Week, running from 21-27 May 2018.
For full competition details and to submit your photo, visit: Libraries SA - Find Yourself