The Parade Masterplan: Phase 2 consultation
30/05/2018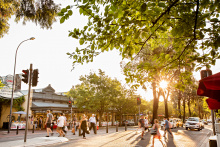 The City of Norwood Payneham & St Peters is developing a Masterplan for The Parade, Norwood which will guide the redevelopment of this significant mainstreet precinct.
A number of design concepts have been developed in response to the ideas and comments which were provided as part of Phase 1 of The Parade Project in early 2016.
You are now invited to have your say on the draft Design Concepts that have been prepared.
Consultation closes 5.00pm, Friday 22 June 2018.
For more information and to have your say, visit: Planning The Parade: Have Your Say!