Take care in the heat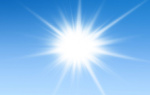 There are some simple things you can do to reduce the impact of Adelaide's extreme heat this summer. These include staying out of the sun, drinking lots of water and spending as much time as possible in cool or air-conditioned places.
If you don't have an air conditioner at home, visit one of our three libraries where you can relax and take it easy.
If you are shopping on The Parade, Norwood, drop into the Norwood Town Hall where there is cool drinking water available on hot days at the front counter.
If you are a water lover, why not cool off at the Norwood or Payneham pools – the pools are heated to 27 degrees and there's plenty of shade.
For more information and to download the Stay Healthy in the Heat Fact Sheet which is available in different languages, visit: SA Health
Check weather forecasts and UV times
You can check weather forecasts and UV times by using the SunSmart Alert widget.
The SunSmart UV Alert times are issued throughout the year by the Bureau of Meteorology when the UV Index is forecast to reach 3 or above.