Collect your free rolls of compostable liner bags
03/08/2017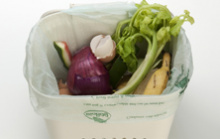 The Council is again providing your household with two free rolls of 150 compostable liner bags (about a year's supply) for your kitchen organics basket.

Kitchen organics service
Our kitchen organics service allows you to easily collect your kitchen organic waste in your kitchen organics basket and transfer these contents to your green kerbside organics bin.
Once collected, the material is then delivered to Jeffries at Wingfield, where it is recycled into nutrient rich compost.

How to get your free roll
This August your household will receive a food recycling flyer with a tear-off voucher. To collect your free rolls of compostable liner bags, bring the tear-off voucher in person to one of our Libraries or the Norwood Town Hall
Please do not post, email or fax the voucher to the Council as we do not deliver.

Two for one compost, soil or mulch
To thank you for recycling your household food scraps, anyone collecting their rolls of compostable liner bags before 30 September 2017 will receive a two-for-one voucher to spend on Jeffries Compost, Soil or Mulch - a great opportunity to receive your organic material back as nutrient-rich products for your garden!

How to get additional rolls
Additional rolls can be purchased for $4.35 per roll of 75 liners from our Libraries or the Norwood Town Hall
If you purchase your rolls elsewhere, please ensure they are marked as fully compostable.

Recently moved house?
If you are a new resident and your house does not have a kitchen organics basket, you can collect one for free from the Norwood Town Hall (proof of residency is required).

More information
For more information about the correct use of the 3-bin recycling and waste collection system, visit: Waste & Recycling or contact the Council's Sustainability Officer, Mary-Anne Siebert on 08 8366 4532.