Planning The Parade - have your say!
02/02/2016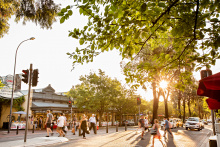 The City of Norwood Payneham & St Peters is developing a Masterplan for The Parade, Norwood which will guide the redevelopment of this significant mainstreet precinct.
You are invited to tell us what you love about The Parade and provide your ideas on what you would like considered in The Parade Masterplan.
In recognition of the regional appeal and importance of this Project, the Council has established a unique 'Have Your Say' web page that will provide those interested in the Project the opportunity to:
share knowledge and experiences as residents, employees, building owners, local businesses or visitor to The Parade
influence the planning, design direction and priorities for the Masterplan
be informed of regular updates and have opportunity to provide comment as the Masterplan develops.
For more information or to provide your comments, visit: Have Your Say
Comments may also be made in writing to Keke Michalos, Acting Manager, Economic Development & Strategic Projects via email to kmichalos@npsp.sa.gov.au
Tags: