Dog registration renewals due by 31 August
13/07/2017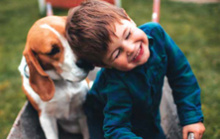 Dog registration is important as it provides safety and security for dogs, owners and the community.
Dog registration renewal notices have been sent to all dog owners with payments due by 31 August 2017.
Registered dogs will be issued with a tag, which must be worn by the dog at all times to help identify the dog if it becomes lost, and to reunite it with its owner.
For more information, visit our Dog Registration page or contact the Council on 08 8366 4555.