Norwood Football Club redevelopment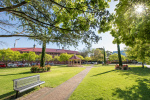 The Development Assessment Commission (DAC) has given the green light for the redevelopment of new clubrooms for the Norwood Football Club after deferring its decision last month.
The new clubrooms will cost an estimated $5.4 million, of which $2 million will be funded by the Council, with the remaining $3.4 million to be funded by the Norwood Football Club.
The Club's contribution is comprised of $2 million which it will receive from the SANFL for the sale of AAMI Stadium, with the balance coming from the Club's fundraising efforts.
Read: Media Release