Intersection closure - Ashbrook Avenue and Lewis Road, Payneham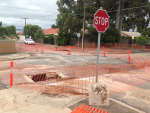 Following the storm event which took place in the early hours of Wednesday 28 December 2016, a large sink hole has opened up in the road intersection at Ashbrook Avenue and Lewis Road, Payneham.
The City of Norwood Payneham & St Peters is currently investigating the cause of the sink hole. In the interests of public safety, closure of the intersection will be required whilst the source of the problem can be determined and appropriate repair works can be undertaken. The Council anticipates the intersection will remain closed for at least three weeks.
The Council apologises for the inconvenience caused by the closure of this intersection and will resolve the issue as soon as possible, in order to have the roadway safely reopened in due course.
For more information, please contact the Council's Acting Manager, City Assets, Scott Dearman on 8366 4538 or Manager, City Services, Rob Gregory on 8360 9001.