2017 Community Survey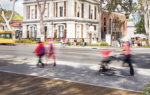 We are excited to confirm that Square Holes has been engaged by the City of Norwood Payneham & St Peters to conduct the 2017 Community Survey of residents and business operators across the Council area.
The Survey will be undertaken in late January and February 2017, and will seek feedback from a sample of the community about their level of satisfaction with the Council and the services it provides.
Participation in the Community Survey is greatly appreciated and the Council extends a heartfelt thank you to all those who participate.
Participant selection and interview process
The resident participants will be randomly selected by Square Holes, ensuring that a mix of community members are surveyed.
Interviewers will conduct face-to-face interviews with four hundred residents, and a telephone survey of two hundred business operators within our Council area.
The survey is expected to take approximately fifteen minutes to complete.

Participant confidentiality and privacy
The information provided by respondents is confidential and no identifying details are collected.
The interviewers conducting the face to face interviews can be easily identified as an authorised representative of the Council and will carry a letter of authorisation from the Council confirming this.

What happens to the feedback
The 2017 results will be compared with the previous Community Survey feedback to review our progress since the first Community Survey was undertaken in 2009.
Why the Survey is important
The Community Survey is an important initiative designed to help the Council to improve its performance, understand key issues identified by the community and to measure its progress towards the Targets which are contained in the Council's long term strategic plan CityPlan 2030: Shaping Our Future

More information
Council's Strategic Projects Coordinator
Olivia Franco
T: 08 8366 4524
E: ofranco@npsp.sa.gov.au