2017 Citizen of the Year Award winners
08/02/2017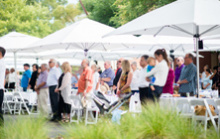 Congratulations to the winners of the 2017 Local Australia Day Awards for the City of Norwood Payneham & St Peters.
The Award recipients were announced at a special Australia Day celebration held at St Peters Civic Plaza, St Peters on 26 January 2017.
2017 Citizen of the Year Award: Victor Baltutis
Victor Baltutis has volunteered diligently and selflessly for the Adelaide and Australian Lithuanian Community since arriving in Australia in 1949 as a refugee.
Victor's achievements include creating the Australian Lithuanian Archives (a ten year undertaking) which is currently housed at St. Casimir's Lithuanian Parish in St. Peters. These archives are the history of the Lithuanian community in Australia, from arrival in the late 1940's to now.
At almost 90 years of age, Victor continues to be active in the community, helping to organise and coordinate St. Casimir's Parish to have a priest presiding over Holy Mass for the parishioners every Sunday. He also writes and publishes the fortnightly Adelaide Lithuanian Bulletin on his own computer, which is a highlight for many elderly Australian Lithuanians who may no longer have easy access to their community.
Due to Victor's work in the Adelaide and Australian Lithuanian Communities, he is well known and highly respected in the Adelaide Catholic Church. A humble man, until now he has never been awarded for his work. He previously declined an OAM award due to his humility and considers the thousands of volunteer hours he has contributed to be a normal way of life.
Commendation – Citizen of the Year: Kala McLean (Women's Community Centre)
Kala McLean dedicates a significant amount of voluntary time to running the Women's Community Centre in Stepney, Adelaide.
Kala is from Sri Lanka and studied computer science at Adelaide University. After hearing that the Women's Community Centre was likely to shut down, she put her career plans on hold to dedicate all of her time and energy to ensuring this would not happen.
The Women's Community Centre offers programs that help women to feel good about themselves and reach their potential, and it attracts many women from different backgrounds and countries. The programs offered include cooking, gardening, exercise, jewellery making, mosaics, singing and craft.
Kala is in charge of the running of the Centre, including writing the programs, managing volunteers, accounts, and meetings.
Community Event of the Year: Hillbilly Hoot
Hillbilly Hoot is a lightly curated open mic live-to-air radio program which is conducted by a dedicated group of volunteers, and takes place every Monday evening at the Linde Reserve Amphitheatre.
Hillbilly Hoot is peopled by a group of regulars, newcomers, travelling musicians – essentially anyone who comes along on the night. They never know who will turn up, and they don't audition – they just welcome anyone along who would like to sing/play a song.
Ali Ayliffe has been organising the Hillbilly Hoot for 15 years.