Chi Ball
30/03/2017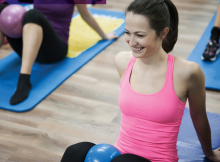 Due to popularity, Chi Ball is now full.
You are welcome to add your details to our Waiting List and we will contact you if a place becomes available.
The Council is pleased to launch the new Come and Try Chi Ball program.
Chi Ball is a mind-body exercise and wellness program based on the principles of traditional Chinese medicine, suitable for all ages and abilities.
A Chi Ball class combines techniques of Tai Chi-Qi Gong, Yoga, Pilates, and Relaxation/Meditation with inspiring music.
DETAILS:
Dates: 5 May - 30 June 2017 (excluding 2 June)
Time: 9.15am - 10.15pm
Venue: Payneham Library, 2 Turner Street, Felixstow
Cost: $2
More information
Maria De Conno
Community Care Services Project Officer
T: 08 8366 4519
E: mdeconno@npsp.sa.gov.au