Cr Sophia MacRae resigns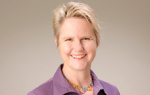 Cr Sophia MacRae has resigned from the City of Norwood Payneham & St Peters, to pursue her career as a Planner in Victoria.
Sophia's final day as an Elected Member is Tuesday 9 May, having represented the Maylands/Trinity Ward since 2010.
A supplementary election will be held, for which further details will soon be available.