Afternoon Tea with author Nadine Williams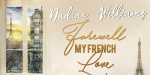 The City of Norwood Payneham & St Peters and Dillons Norwood Bookshop invite you to a free afternoon tea with author Nadine Williams.
EVENT DETAILS:
Date: Tuesday 30 May
Time: 2.00pm - 4.00pm
Renowned journalist Nadine Williams will be talking about her new book, Farewell My French Love. A funny, poignant and profoundly moving memoir about love, grief, friendship, travel and renewal.
For more information and to book, visit: Events & Festivals Calendar