NPSP joins LGASA campaign against rate-capping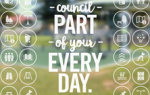 At its meeting held on Monday 1 May, the Norwood Payneham & St Peters Council resolved to join other councils in support of the Local Government Association of South Australia's public awareness campaign against rate-capping.
This follows the South Australian Liberal Party's proposal to introduce rate-capping on the Local Government sector should it win the 2018 State election.
"A cap on council rates is a cap on infrastructure, essential services and a community's aspirations for a high level of amenity," said Mayor Robert Bria.
"Council's position is not about opposing a political party, but instead opposing a failed policy that will undermine the democratic foundation of local voice and local choice, and our right as a local government authority to chart our own course for the future, that meets the needs of our community."
Independent reports from New South Wales have found that rate-capping in that state has left many councils financially unstable with crumbling infrastructure and significant cuts to essential services.
Mayor Robert Bria is concerned that the disadvantages of rate-capping far outweigh the benefits.
Rate-capping won't improve budget transparency as councils won't need to justify raising a low rate increase in line with the cap.
Mayor Bria said there will always be a case for councils to achieve efficiencies, reduce costs and find opportunities for resource-sharing with other councils to ultimately provide better 'value for money' for its constituents.
"Our Council strongly supports the introduction of benchmarking. Comparing the cost and quality of services and programs in Norwood, Payneham & St Peters with other councils will enable ratepayers to hold the Council to account.
In 2016, Council supported Mayor Bria's call for standardised reporting on annual rate increases, in order to ensure that all councils are providing their communities with comparable information regarding budgets.
For more information, visit: LGASA - Rate Capping