SA Power Networks commence tree trimming program in May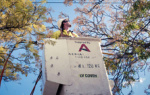 As part of their State-wide vegetation management program, SA Power Networks have advised the Council that they will commence tree trimming in the City of Norwood, Payneham & St Peters during May.
Tree trimmers clear vegetation around power lines to minimise the risk of outages, avoid damage to powerlines and ensure community safety.
About 40% of power outages can be attributed to tree limbs or branches coming into contact with powerlines.
Vegetation can also prevent safe access to powerlines, delaying the response to reinstating power, particularly in windy conditions.
For more information about tree trimming visit: SA Power Networks or phone SA Power Networks on 13 12 61.
To submit feedback regarding tree trimming in your area, visit: SA Power Networks - Tree Trimming Survey