Gilberton Swing Bridge redevelopment
22/06/2017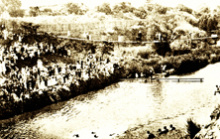 The heritage listed Gilberton Swing Bridge (the Swing Bridge) is located within the River Torrens Linear Park, connecting the suburbs of St Peters and Gilberton and is jointly owned by the City of Norwood Payneham & St Peters and the Town of Walkerville.
The Swing Bridge holds great historical significance having been used by pedestrians for almost 100 years and is valued by the local community.
Over the previous few years, plans and designs have been developed, with Planning Consent and Building Rules Consent granted.
While the project timeframes had been delayed due to developing a decision which respects the historical uniqueness of the Swing Bridge and at the same time meets modern standards, we are pleased that the tender process is now underway.
It is anticipated a contractor will be appointed to construct the new bridge by 31 August 2017.
Every effort is being made to ensure the works are completed safely and the Swing Bridge reopened as soon as possible.
The project is managed by the City of Norwood Payneham & St Peters on behalf of both councils.
For more information and to view the project timeline, visit: Gilberton Swing Bridge Redevelopment Update