New major public artwork for Stepney in 2018
05/07/2017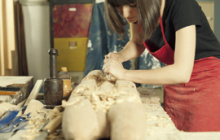 A small reserve in Stepney on the corner of Nelson Street and Magill Road, has been selected as the location for a new NPSP major public artwork.
The artwork intends to create an engaging installation that celebrates the City's cultural identities and enhances the experience of living in, working in or visiting the City of Norwood Payneham & St Peters.
"We want our public spaces to be places where people gather, and public art is a positive way of creating focal points that engage locals and visitors," Mayor Robert Bria said.
"Magill Road is a popular place and an important shopping and dining precinct."
The Council's Public Art Committee will meet in July 2017 to prepare a Project Brief with the intention of seeking Expressions of Interest from artists. The final design of the artwork will be approved by the Council by the end of the year.
Expressions of Interest will be open and further information available in August on this website.
Related article: Media Release: 5 July 2017