Supplementary election: candidates announced
10/07/2017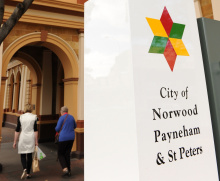 Following the resignation of Cr Sophie MacRae earlier this year, the Council is in the process of undertaking a supplementary election.
The Supplementary Election will ensure that the casual vacancy for the Maylands/Trinity Ward will be filled for the remainder of the current term of the Council which is until November 2018.
The election is being managed by the Council in conjunction with the Electoral Commission of South Australia, and in accordance with the Local Government Act 1999.
Four nominations were received during the nomination period (which closed at 12 noon on Thursday 6 July):
Jeremy Miller
Vini Ciccarello
Nik Villios
Mike Stock.
The Ballot was drawn at 4.00pm on Thursday 6 July at the Norwood Town Hall.
The election will be conducted entirely by post with distribution of ballot papers from Tuesday 18 to Monday 24 July.
Election voting will close 12 noon on Monday 7 August 2017.