Look East out now!
17/07/2017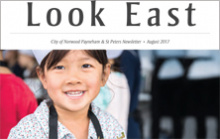 Keep up-to-date with all that's happening in our City by reading the latest edition of Look East!
Download: Look East: August 2017
The August edition of Look East features the 2017-2018 Annual Business Plan Summary – an overview of the annual budget and the key projects and initiatives that the Council will be delivering over the financial year.
You can also learn about waste reduction initiatives, read updates about major projects and explore upcoming events and festivals.