SALA in our City
31/07/2017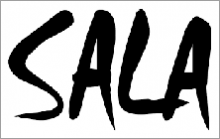 The City of Norwood Payneham & St Peters is a hub of exhibitions and open studios during August for the 2017 South Australian Living Artists Festival.
Recognised as the largest visual arts festival in Australia, SALA is proudly local and celebrates the richness and diversity of South Australia's emerging and professional visual artists.
With 27 exhibitions and events in cafes, shops, galleries, offices and schools throughout the City of Norwood Payneham & St Peters, there is much to explore during the Festival, and right on your doorstep!
Download: NPSP Exhibition Guide & Map
Don't miss the annual exhibition of residents' artwork in the reception foyer at the Norwood Town Hall which showcases the work of 12 artists from 1 – 31 August. SALA in Norwood is showing Monday – Friday, 8.30am – 5:00pm.
Download: Norwood Town Hall Exhibition Catalogue
Explore the 2017 SALA Festival, visit: www.salafestival.com