Shaping our future: your say
03/08/2017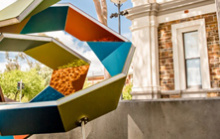 CityPlan 2030 is the leading document in the Council's Strategic Planning Framework, and guides the future planning, programming and delivery of projects and services for our City.
Following a review of CityPlan 2030, we are now seeking community feedback on the proposed changes to the document.
The City of Norwood Payneham & St Peters Mayor, Robert Bria, said that the 2017 update has taken into account the views, aspirations and ideas of more than 160 people who participated in the first stage of community consultation.
"The update re-affirms the City's long held vision and aspirations for the future; such as an improved vibrant arts and culture scene, with more activation in public spaces aimed at increasing community participation and creating a stronger sense of place and inclusion."
For more information and to have your say, visit: Have Your Say: CityPlan 2030 - Update 2017
The next review of CityPlan 2030 will be a major update and is scheduled for 2020, which marks the halfway point in the life of the Plan.