Free household hazardous waste drop-off day
21/08/2017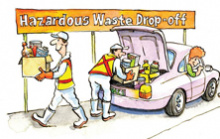 We are hosting a household hazardous waste drop-off day on Saturday 28 October at our Council depot.

EVENT DETAILS:
Date: Saturday 28 October
Time: 9am - 3pm
Location: City of Norwood Payneham & St Peters Depot, 30 Davis Road, Glynde
Cost: Free


This service is being held in partnership with the City of Burnside and Campbelltown City Council and funded by the Office of Green Industries SA
What can be accepted
acids and alkalis
brake fluids
car care products
cleaning products
coolant
other household chemicals
paint (liquid only). Maximum of 100 litres, secured in containers less than 20 litres in volume.
pesticides, insecticides, rodenticides, herbicides and other garden chemicals
photographic chemicals
polishes
pool chemicals
solvents (including paint thinners, turpentine)
varnishes and stains.
What cannot be accepted
Items not accepted


Alternative disposal methods


Ammunition or explosives
Contact the police
Asbestos
Contact the EPA on 8204 2004
Batteries
See Council website.
Fertiliser
Use or donate to local community garden.
Gas bottles

Drop off for recycling at:

Household smoke detectors
Place into the waste bin (red lid).
Light globes
Mitre 10 stores (fluorescent tubes, halogen, incandescent and old style).
Motor oil
Council's depot accepts domestic quantities. Bring oil in a clean, plastic container with a lid.
Cooking oil

Drop off at Adelaide Statewide Tallow

Small amounts of vegetable oils can be composted.

Pharmaceuticals
Return to a pharmacy
Tyres
Visit: Recycling Near You. Some tyre service centres will recycle your tyres for free when you purchase new ones.
General guidelines

keep original labels on all containers or put labels on known chemicals
package all materials securely to avoid spills
place old containers in plastic bags or buckets to avoid leaks
place smaller containers in a box or larger container to help with unloading
transport chemicals in your vehicle's boot or trailer for easy and safe handling
for your safety stay in the car and let staff unload waste.
Please note that containers or boxes will not be returned as these are not emptied on-site.

What if I miss the drop-off day?
If you miss the drop-off day, deliver the waste to the EPA's Hazardous Household Waste Depot on the corner of Magazine Road and Henschke St, Dry Creek (enter Magazine Road from Cormack Road).
For more information, visit: EPA - Hazardous Household Waste
More information
For more information, contact Martin Woodrow on 08 8360 9008 or email mwoodrow@npsp.sa.gov.au