Zest for Life Program out now!
06/09/2017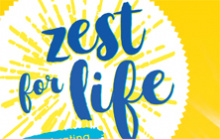 Celebrate your zest for life and join our exciting program of events which encourage positive and active ageing, and promote community well-being.
To explore the Zest for Life program and make a booking, visit: 2017 Zest For LIfe Program
Previously known as the Every Generation Festival, Zest for Life is presented as part of the COTA Zest Fest 2017 Festival for Modern Ageing.
The program is brimming with workshops, classes, learning opportunities, and social activities across a variety of interest areas including fitness, health and well-being, arts and craft, information technology, and dance. You can even take a tour of the Linde Community Garden or roll some wines across your palate at Signature Wines. The program will finish with the highly anticipated concert at the Norwood Concert Hall featuring the SA Police Band.
If you require any further information about the Zest for Life program, contact the Council's Community Services Unit on 08 8366 4611 or email ccs@npsp.sa.gov.au
For a full list of COTA SA Zest Fest events, visit COTA SA