You've got a friend in me
07/09/2017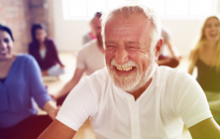 Volunteer your time and offer friendship to someone who needs it most.
There are many benefits of friendship. Friends and companions can help improve each other's sense of belonging and purpose; boost happiness and reduce stress, and strengthen self-confidence and self-worth.
Offering your time and friendship through volunteering in the City of Norwood Payneham & St Peters Community Visitor Scheme will bring these benefits to both you and your new friend.
A Community Visitor sets aside time once a fortnight to visit a socially or culturally isolated resident in an aged care home or the resident's home.
You may share an interest, participate in activities together or simply enjoy the benefits that friendship offers. Ultimately, you will help the resident to increase the quality of their social interactions within the community.
Activities will vary depending on the resident's interests and abilities and may include chatting over a cuppa, playing games, or going for a walk.
For further information, contact the Council's Community Visitors Scheme Coordinator, Huan Wang on o8 8366 4606 or hwang@npsp.sa.gov.au