Draft Asset Management Plans - have your say
09/10/2017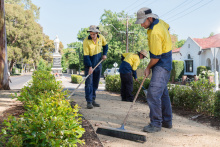 The City of Norwood Payneham & St Peters recently adopted its draft Infrastructure & Asset Management Plans and is now seeking community comment prior to finalising the Plans.
Community feedback and participation is an important part of ensuring the sustainable and responsible management of the Council's key assets.
The feedback provided will assist in finalising the Plans prior to their adoption by the Council.
Have your say by 5.00pm Monday 30 October 2017.
For more information and to have your say, visit: Community Consultation