Festive Gallery on Osmond from 30 November
30/11/2017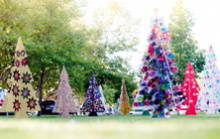 Norwood's very own open air Christmas tree art gallery returns for the second year in a row, seeing the creative work of children from thirteen local schools work with the Council to decorate wooden Christmas trees, to be displayed along Osmond Terrace for everyone to enjoy.
On display: 30 November 2017 – 3 January 2018 | Osmond Terrace, Norwood
As a result of the success of last year's inaugural open air Christmas tree art gallery, an additional five schools have taken up the opportunity to participate in the project, increasing the number of trees on display from 30 in 2016 to an impressive 55 this year.
Children from various year levels at East Adelaide School, Felixstow Community School, Loreto College, Marden Senior College, Marryatville Primary School, Mary MacKillop College, Norwood Primary School, Prince Alfred College, St Ignatius Junior School, St Joseph's School Kensington, St Joseph's School Payneham, St Peters Child Care Centre & Preschool and Trinity Gardens Primary School have participated in the festive Gallery on Osmond, which was assisted by Brick + Mortar Creative who facilitated the design and construction of the trees.
Christmas Tree Art Gallery – People's Choice Competition
The community is invited to view the Christmas trees and nominate their favourite tree for the People's Choice Award competition!
Simply follow The Parade Norwood on Facebook and 'Like' the photo of your favourite tree before Wednesday 27 December 2017.
The tree with the most likes by close of competition will win the school a $500 Sportspower Norwood voucher.