Have your say: The Parade proposed smoke-free area
22/11/2017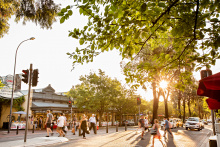 The City of Norwood Payneham & St Peters recognises the need to protect the health of the community and to increase the comfort and enjoyment of people using public spaces, which will be supported through the introduction of smoke-free areas within the Council area.
You are invited to have your say on a proposal to designate a section of The Parade as a permanent smoke-free area.
Consultation closes at 5.00pm Friday 15 December 2017.