Inflatable fun at Norwood Pool!
25/01/2018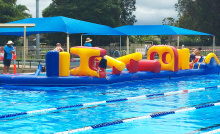 Try out your skills and beat the clock on the shiny new inflatable obstacle course at the Norwood Swimming Centre!
The inflatable obstacle course will be a permanent feature every Sunday between 12.30pm and 3.30pm, for the remainder of the 2017-2018 Season. Patrons will also be able to tackle the obstacle course every Saturday when the forecast temperature is 30 degrees or above.
Standard entry fees will apply and weather conditions may affect availability.