2018 Eastside Business Awards
01/02/2018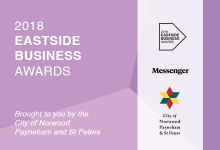 The inaugural 2018 Eastside Business Awards lift the lid on the premier businesses in our beautiful east.
The City of Norwood, Payneham & St Peters in partnership with the City and Eastern Courier Messengers are looking to unveil the best within the region – from cafés and coffee to beauty, boutiques and bars.
If you're a business in the area or a loyal customer, make sure you nominate before Friday, February 16.
For more information and to nominate, visit: The Advertiser - Eastside Business Awards