Water safety program for new migrants
08/02/2018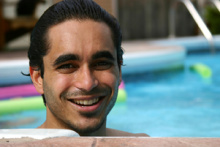 The Council is pleased to be hosting an introduction to water safety program for new migrants at the Payneham Memorial Swimming Centre.
The program will cover a variety of water safety methods such as an introduction to survival strokes, risk identification, rescue techniques and a demonstration of CPR.

Introduction to Water Safety
Venue: Payneham Memorial Swimming Centre, 194 OG Road, Felixstow
Dates: Sunday 25 February, 4 March, 11 March and 18 March
Time: 11.30am – 1.00pm
Cost: $10 enrolment fee


To register and for more information, contact Payneham Memorial Swimming Centre on 08 8336 1978 or email swimschool@npsp.sa.gov.au
The four week program will initially cater for up to 30 participants, aged 18 years and over, but may increase to allow for demand.