No plans to close Norwood Library
21/03/2018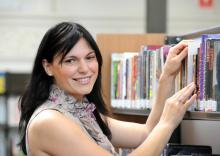 The Council would like to inform all NPSP ratepayers and users of the Norwood Library that, contrary to media reports and other material circulating within the community, there has been no decision made to close the Norwood Library.
Any claims or suggestions to the contrary are false and misleading. In fact, the Norwood Library, along with the St Peters Library and Payneham Library (located in Felixstow) forms part of the Council's three Library Model, a policy position which was adopted in the early 2000s and is still in effect today.
The Council built the new Payneham Library in 2003 and as part of the redevelopment of the St Peters Town Hall complex, incorporated a new Library in the St Peters Town Hall in 2012.
In respect to the Norwood Library, the Council's current position is that the existing Library will either be renovated or will be relocated to the Norwood Town Hall complex (possibly the former Norwood Senior Citizens Centre).
The Council has not made a decision in respect to which of these options it will pursue.
The discussion to date, relates to whether the renovation of the existing library, or relocation of the Library, should be included in the Council's 2018-2028 Long Term Financial Plan.
The draft Long Term Financial Plan is currently out for community consultation and the community is invited to lodge submissions. The closing date for submissions is 5.00pm, Wednesday 21 March 2018.
To download the draft 2018-2028 Long Term Financial Plan, visit: Community Consultation