SALA support for artists
25/02/2019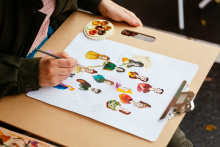 The City of Norwood Payneham & St Peters supports artists to participate in the South Australian Living Artists Festival within our creative City.
Who can apply
Solo artists who have arranged their own exhibition or are participating in an open studio event in the Council area are invited to claim a reimbursement of the SALA registration fee of up to $120.
How to apply
To claim a reimbursement of your SALA registration fee, include in an email:
details of your exhibition or participation details
attach a copy of your SALA receipt
email your request to: events@npsp.sa.gov.au
Requests open 1 March and close14 May.


For more information about the Council's artist subsidies, contact the Events Unit on 08 8366 4555.