Bronze name tablets for St Peters Heroes Memorial
01/05/2018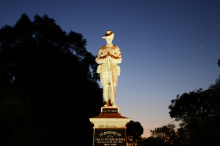 The St Peters Residents' Association (SPRA) are on a mission to acknowledge the names of those who did not return from the Great War.
This will be achieved by the fixing of bronze tablets containing the names of the fallen Great War servicemen from the then Town of St Peters onto the St Peters Heroes Memorial in St Peters Street.
The names of about 146 men from the suburbs of Hackney, College Park, East Adelaide, St Peters, Stepney, Evandale and Maylands have been identified. The SPRA would like to contact any relatives of these men, so that they can be involved in the re-dedication of the Memorial and to check the family details.
It is intended that the St Peters Heroes Memorial, with the name tablets, will be re-dedicated around the Centenary Remembrance Day in November 2018.
For more information, visit: SPRA – War Memorial