Smoke-free Policy endorsed
14/05/2018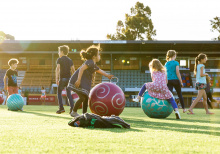 The Council's Smoke-free Policy was endorsed at its Council Meeting on Monday 6 May, and is now in effect.
The introduction of smoke-free areas and events in our City will help to provide healthy public spaces, facilities and events for the community to enjoy.
Download: Smoke-free Policy

Smoke-free locations
The Smoke-free Policy introduces smoking restrictions at the following locations:
Council-owned reserves and parks, including the Norwood Oval and Payneham Oval
Norwood Swimming Centre and Payneham Memorial Swimming Centre
Council events, including Council organised events and those supported by the Council through a partnership, sponsorship or similar arrangement, within the defined boundary of the event.
Please note: The Memorial Gardens, located on The Parade, Norwood (adjacent to the Norwood Oval) has been excluded from the Policy as it will be considered separately by the Council, as part of the review of smoking restrictions on The Parade.
Display of 'no smoking' signs
To ensure that smoke-free areas are clearly identified, signage will soon be installed at the affected reserves, parks and swimming centres, and at the entrances of all Council-run and supported events.
Draft Smoke-free Policy consultation
The community was consulted on the draft Smoke-free Policy from 15 March to 23 April 2018.
A total of 28 responses were received, with the majority (75%) expressing support for the proposed Policy.
For information about the outcomes of the consultation and a copy of the submissions, download the Council Meeting Agenda: 7 May 2018, from the Council Agenda and Minutes page.
Contact
Olivia Franco
Strategic Projects Coordinator
T: 08 8366 4524
E: townhall@npsp.sa.gov.au