George Street, Norwood statement
30/05/2018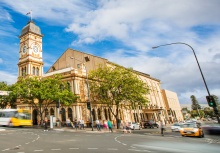 The Council is aware that a leaflet is circulating in the Norwood area claiming George Street, Norwood is to be permanently closed.
The Council advises all City of Norwood Payneham & St Peters residents and ratepayers, visitors and traders and business owners that no such decision has been made nor is it being considered by the Council.
The leaflet in question has also falsely attributed a section of an article published in the 'Eastern Courier Messenger' on 14 February 2018 as a quote from Mayor Robert Bria.
Mayor Bria made no such quote.
As widely publicised, George Street, Norwood was the location of the 'George Street Piazza' event on Sunday, 15 April 2018 which required only a temporary closure from 5.00am to 8.00pm on that day. The Council rejects any suggestion that this event will lead to the permanent closure of George Street.
Like all other events, the Council will conduct a review of the 'George Street Piazza event' to determine if it will continue in the future.
The Council reiterates its disappointment that an anonymous leaflet is being circulated in the community, which is causing unnecessary anxiety and confusion, and has the potential to undermine consumer confidence.
"Quite frankly, the Council doesn't have the time or resources to deal with leaflets which contain misleading statements and unsubstantiated statistics." said Mayor Bria.
"Rather, the Council prefers to invest in developing respectful relationships and working collaboratively with traders, property owners and residents who want to see The Parade thrive.
"It is very sad that people feel the need to distribute misleading and inaccurate information when the opportunity to discuss concerns about any issues regarding The Parade precinct with the Council is always there."