NPSP wins at Australasian Reporting Awards
25/06/2018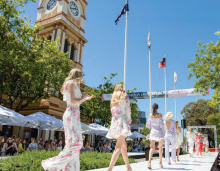 The City of Norwood Payneham & St Peters has received a Silver Award at the 2018 Australasian Reporting Awards (ARA) for the Council's 2016-2017 Annual Report.
The Silver Award follows a Bronze, which the Council received for its 2015-2016 Annual Report.
"As an organisation we are committed to good governance and our values set the bar for excellence," said Mayor Robert Bria.
"Most importantly, we are firmly dedicated to open and transparent communication with our community and stakeholders."
The Australasian Reporting Awards also provides an opportunity for the Council to benchmark annual reporting against the ARA criteria, which is based on world best practice.
The Council's Silver Award was presented at the ARA Awards Presentation Dinner held in Sydney on Wednesday 20 June 2018.
Further reading:
Download: 2016-2017 Annual Report
Visit: Media Release