Draft Access & Inclusion Strategy consultation
03/07/2018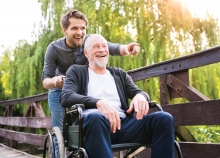 The City of Norwood Payneham & St Peters has developed a draft Access & Inclusion Strategy.
The Strategy sets out goals and actions the Council will be working towards over 2018 – 2021 that will enable the Council to provide services, support, facilities and information that are not only accessible but genuinely inclusive for all citizens.
Consultation closes 5.00pm, Wednesday 8 August 2018 (date updated).
For more information and to have your say, visit: Community Consultation