2018-2019 Annual Business Plan & Budget endorsed
19/07/2018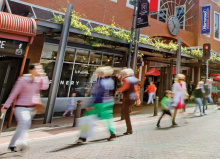 The Norwood Payneham & St Peters Council has kept the 2018-2019 average residential rate increase to just 0.93 percent following the adoption of it's 2018-2019 Annual Business Plan & Budget adopted at the Council meeting on 2 July 2018.
"Achieving this record low increase demonstrates that the Council continues to have the City's finances under control and maintaining financial sustainability." Mayor Robert Bria said.
0.93 percent equates to an extra $14 a year for the average residential property.
This year the Council will invest $11.8 million into new projects, as well as nearly $7 million into its Capital Works Program. These projects include storm water drainage ($4.1 million), road reseals ($1.528 million), footpaths ($0.811 million), and kerbing and water tables ($0.765 million).
For more information, download: Annual Business Plan & Budget 2018-19