Raising the Bar in NPSP
11/07/2018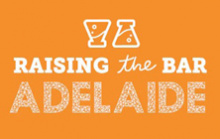 20 talks. 10 venues. 1 night.
In a first for South Australia, the City of Norwood Payneham & St Peters will host the event 'Raising the Bar Adelaide' for one night only, on Tuesday 7 August.
Founded in New York City by students of New York University and Columbia University, 'Raising the Bar' is a global award-winning event series which turns pubs into classrooms by combining education and popular culture.
Join renowned speakers for a night full of learning and discussion while enjoying a drink or two.
For the full program and to book, visit the official website: Raising the Bar Adelaide