2018 Fashion on Parade - volunteer with us!
23/07/2018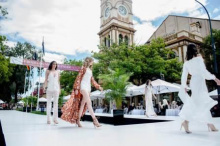 Would you like to participate in one of South Australia's premier fashion events? Volunteer applications are now open for the 2018 Fashion on Parade.
Fashion on Parade, held annually on The Parade, Norwood, showcases the latest in-season trends from Parade retailers and local designers.
The back stage of Fashion on Parade is a hub of activity with models, designers, stylists, volunteers and staff working together to deliver a seamless show.
Get involved!
We are looking for enthusiastic and committed individuals to join our dynamic runway crew team.
Volunteering as a runway crew member will get you a back stage pass to work with local designers and industry experts, while gaining experience in the fashion and events industry.
If you have strong initiative and a 'can do' approach, we want to hear from you!
For more information and to apply, contact Belinda Naish on 08 8366 4631 or bnaish@npsp.sa.gov.au
For more volunteering opportunities, visit: Volunteer Vacancies