Draft State Planning Policies consultation
31/07/2018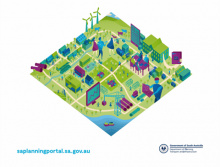 South Australia's planning system is currently undergoing its biggest reform in over 20 years, led by the State Planning Commission through the Department of Planning, Transport and Infrastructure.
Over the coming months, the State Government is releasing a number of documents and discussion papers outlining how the proposed new system will work.
Draft State Planning Policies released for consultation
The Draft State Planning Policies represent the highest level of policy in our new planning system and address the economic, environmental and social planning priorities for South Australia.
The 16 draft Policies address a range of topics including design, housing supply, climate change, energy, industry, transport and employment.
To download the draft Policies, visit: SA Planning Portal
How to have your say
The new planning system focuses on community input at the early stages of policy preparation, with reduced opportunity to comment on individual development proposals. It is therefore important for the community to have a say on the framework and policy documents as they are released by the State Government.
To have your say, visit: yourSAy website
Consultation closes Friday 7 September 2018.
More information
Website: SA Planning Portal