Look East out now!
01/08/2018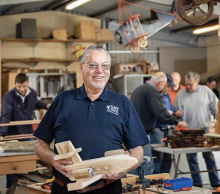 Look East features profiles of local individuals, groups and organisations as well as information about the Council's events, activities and projects.
Download: Look East: August 2018
Articles in the latest edition include Payneham Cricket Club Celebrates 150 Years, Celebrating 60 Years of St Peters Rotary, Meet Some of our Volunteers and Transforming Kent Town.
This edition also features the 2018-2019 Annual Business Plan Summary – an overview of the annual budget and the key projects and initiatives that the Council will be delivering over the financial year.