Look East: August 2020
05/08/2020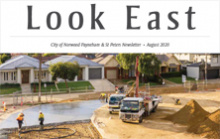 The August 2020 edition of Look East is out now! You'll find it packed with important information and updates from around our City.
Download: Look East: August 2020
Feature stories include Third Creek Stormwater Drainage Project, Local Business Helping Local Businesses, Waste Not, Want Not, Dedicated Dog Park and Eastside Business Awards.
Also included in this edition is an overview of the annual budget and the key projects and initiatives that the Council will be delivering over the financial year.
Please note: Ratepayers will receive the print version of the August edition of Look East with First Quarter rates notices.