2018 SALA in NPSP
01/08/2018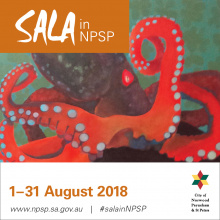 Discover art during SALA 2018 throughout the City of Norwood Payneham & St Peters.
There are 31 exhibitions in shops, cafes, galleries, offices and schools, all just waiting to be viewed and enjoyed.
Don't miss the annual exhibition of residents' artwork in the Reception Foyer of Norwood Town Hall open from 9.00am–5.00pm, Monday to Friday. This year's exhibition showcases the work of 4 local artists from 1 – 31 August.
To view the online exhibition venues map or download the brochure, visit: 2018 SALA in NPSP