Sustainable Garden Awards workshops and tours
12/09/2018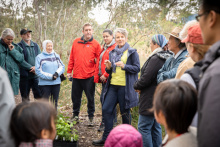 The Sustainable Garden Awards is a biennial initiative of the City of Norwood Payneham & St Peters, showcasing local gardens which make a positive contribution to the environment and well-being of our community through sustainability principles, design and innovation. In the lead up to the Award presentations, a series of free workshops will be available to every shade of green thumb.
The Awards, open to all residents, businesses, schools and community groups in the Council area, recognise and celebrate the importance of gardening and landscaping in our City's urban environment. Nominations will be judged by a panel of industry experts, against a range of criteria including design, innovation and creativity, biodiversity and habitat, self-sufficiency and nature play. Nominations open 1 September and close 5pm, Friday 19 October 2018.
An exciting program of free workshops and tours kicks off on 1 September with a variety of sustainable gardening topics covered and a special workshop for children who love to learn about the creatures in their own backyard. The workshops are presented and hosted by expert gardeners committed to sustainable gardening practices and who are ready to share their tips and tricks, and answer all of your gardening questions. Don't delay, places are limited and bookings are essential.
All welcome! You don't have to live in the Council area to attend.
To book, visit: 2018 Sustainable Garden Awards