Major public artwork shines bright in Stepney
28/08/2018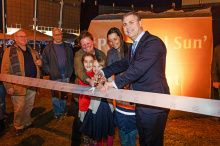 On Tuesday 21 August, the City of Norwood Payneham & St Peters launched its third Quadrennial Major Public Artwork – Perpetual Sun.
Created by local artists, Deb Jones and Christine Cholewa from CHEBart, they used stone to represent the solid foundations of the area and solar to represent openness to exploring the future.
Perpetual Sun is third Quadrennial Major Public Artwork commissioned under the Council's 2006 Major Public Artwork Policy which resolved to fund one major public artwork for each four-year Council term.
The new artwork is located on the corner of Nelson Street and Magill Road, Stepney

Opening night image gallery
Click on an image to view a larger size and to start slideshow.